September struggle?
A trifecta of issues could make September one of the most difficult months yet for airlines
We're back with another edition of Bluer Skies, a weekly newsletter covering how COVID-19 is affecting the U.S. aviation industry. Send tips, comments and feedback to bluerskiesnewsletter@gmail.com, and be sure to have your friends and colleagues sign up!
Passenger traffic is set to rebound nicely for July — but it's likely too soon to celebrate.
Spirit and Allegiant plan to operate around 80% of their July 2019 schedule next month, while Southwest plans 65-75%, Frontier 50-70%, JetBlue 50-60%, American 55%, Delta 38% and United 30%, according to an Aviation Week tally.
Capacity is loosely tracking demand here, and that is no doubt good news, but a few facts must be considered.
First, Southwest, JetBlue and Delta all have capacity caps in place for at least the next few weeks, if not longer. When artificially capping capacity, airlines have two main choices to avoid overbooking/overselling and spill: add sections or upgauge.
As I've noted before, what we are seeing is a recovery in leisure traffic. Take JetBlue, for example. The airline made its rationale clear this week in the press release for its surprise route announcement:
Elsewhere in JetBlue's focus cities and in Florida, the airline will launch new routes where there are small signs of recovery in leisure and visiting friends and relatives (VFR) travel. Adding more destinations in these key markets will help make JetBlue more relevant to more travelers and drive loyalty.
This is exactly why such modest capacity is being restored at United and Delta compared to other airlines, and why American's much more bullish restoration of capacity is such a big deal. These are airlines where the majority of passenger revenue comes from corporate travel, and are airlines that have big international footprints that are mostly idle. The cost structure of legacy airlines also makes leisure traffic chasing a high risk, low return proposition. Unit costs (CASM) at American were 14.98 cents per available seat mile in 2019, the highest in the U.S. industry; at Spirit, it was 7.97 cents per available seat mile.
High-yield corporate travel is not part of the business model of ULCCs like Spirit, Allegiant and Frontier. For them, adding capacity is lower risk and much higher gain.
But regardless, there's a cautionary tale about this lurking on the horizon.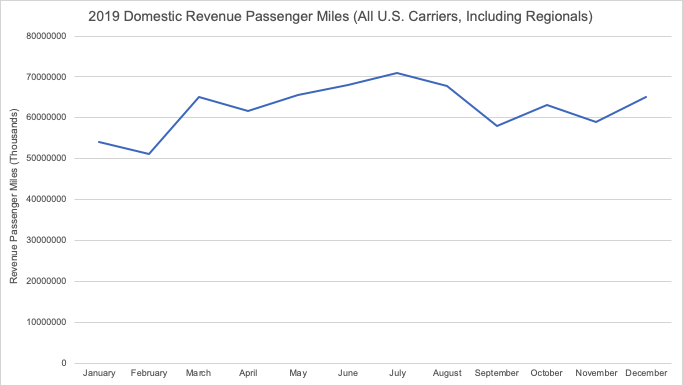 In a "normal," "good" year like 2019, domestic demand looks something like this, which is data from the U.S. Department of Transportation (T-100 Domestic Segment). Demand, shown here as revenue passenger miles (RPM), peaks in July, with June and August also top months. But it falls off a cliff come September and then modestly recovers for the holiday season. (Of course, when we compare year-over-year capacity, the comparative 2019 capacity also declines during these off-peak months.)
September is also the last month in which airline payrolls are (mostly) being covered by the federal government under the CARES Act. With labor being the largest expense for airlines, this relief has allowed airlines to further reduce the risk of operating larger schedules, as unit costs are significantly reduced, as are breakeven load factors.
It is also possible that the so-called "second wave" of COVID-19 becomes an issue around this time.
In the past few weeks, things seem to have stabilized for airlines. The bottom no longer feels like it fell out, like it did in March and the beginning of April. Aircraft are being returned to service. TSA checkpoint throughput is back over half a million per day.
But nothing is normal about 2020 in this industry (or most others for that matter). On the bright side, this means that travel patterns could be different, and pent-up demand could manifest itself during the fall, especially if schools and offices remain closed. The RPM chart above might prove to be a bad comparison.
However these three issues (seasonal demand, expiration of CARES Act funding, possible second wave of COVID-19) pose a major, looming threat to airlines. United this past week implicitly acknowledged that fact in the headline of a press release, emphasis mine: United Expects To Have Approximately $17 Billion In Available Liquidity By September 2020.
It will be an interesting few months, to say the least.
---
Three questions for the week ahead
Will rebounding COVID-19 cases in certain regions have any impact on TSA throughput data?

This week, a conservative activist was banned from American Airlines after he refused to wear a mask. Will we be seeing more of these high-profile cases?

Will any progress be made toward the recertification of the 737 MAX?
---
This week's best links
About that JetBlue announcement: Brian Sumers dives deeper into the strategy at play for B6.
Furloughs, unfortunately, seem inevitable at this point. Courtney Miller explains how furloughs work, the difficult math behind it and why airlines hate doing it.
Brett from Cranky Flier has a deeper analysis of July schedules.
Until next week, I'll see you on Twitter. Bluer Skies, stay safe, healthy and wash your hands,
Ethan