Climb faster, fly higher
We're back with another edition of Bluer Skies, a weekly newsletter covering how COVID-19 is affecting the U.S. aviation industry. Send tips, comments and feedback to bluerskiesnewsletter@gmail.com, and be sure to have your friends and colleagues sign up!
Last week, we focused on the fact that airlines in the U.S. continue to operate a fairly large number of flights (with some exceptions), despite very low load factors. To quantify that a bit more, on the very day that last week's newsletter was published (Sunday), Airlines for America member airlines recorded average systemwide load factors of 11% (10% domestic, 20.8% international).
The theme of this week's newsletter will be quantification, and in a more technical discussion, we will look at two metrics that show how lighter passenger loads are impacting flight operations.
Lighter load factors are causing passenger aircraft to fly, on average, 2,175 feet higher.
Operationally, this is 2,000 feet higher, since aircraft flying under instrument flight rules are vertically separated at 1,000-foot increments (2,000 feet for each direction of flight) at and below flight level 410. This means that aircraft are flying at the next-highest altitude available for each direction of flight (for example, an eastbound flight that earlier might have flown at FL350 would now be at FL370). This is happening because lighter aircraft are able to climb to a higher optimum altitude, where a higher specific range is attainable. To keep things simple, think of specific range as the aviation version of the gas mileage your car gets. While there are other factors that determine cruise altitude selection, such as temperature, wind/altitude trades, turbulence and speed, the primary factor is the aircraft's weight, as shown in this Mach 0.78 optimum altitude planning graph for the Airbus A320 series: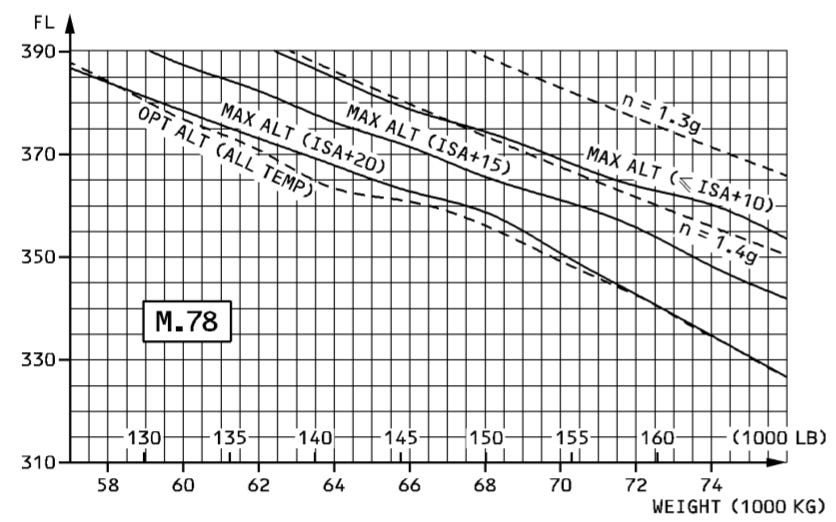 As you travel from left to right on the X-axis, with weight decreasing, the optimum altitude also decreases. 
I created two cohorts of ADS-B snapshot data I pulled from the OpenSky Network, one from Feb. 12 to March 11, and the other from March 12 to April 9. This data was filtered to be flying at FL300 and above, and not in a climb or descent. I found that the Feb. 12 to March 11 cohort was flying through a sample area (Houston Center) at an average of 35,640 feet pressure altitude. The March 12 to April 9 cohort flew through the same airspace at the same time of day at an average of 37,625 feet pressure altitude. Statistical means testing showed this result to be significant, though such tests are admittedly somewhat limited in uncontrolled settings. Here is a look at this data plotted, with a linear best fit line: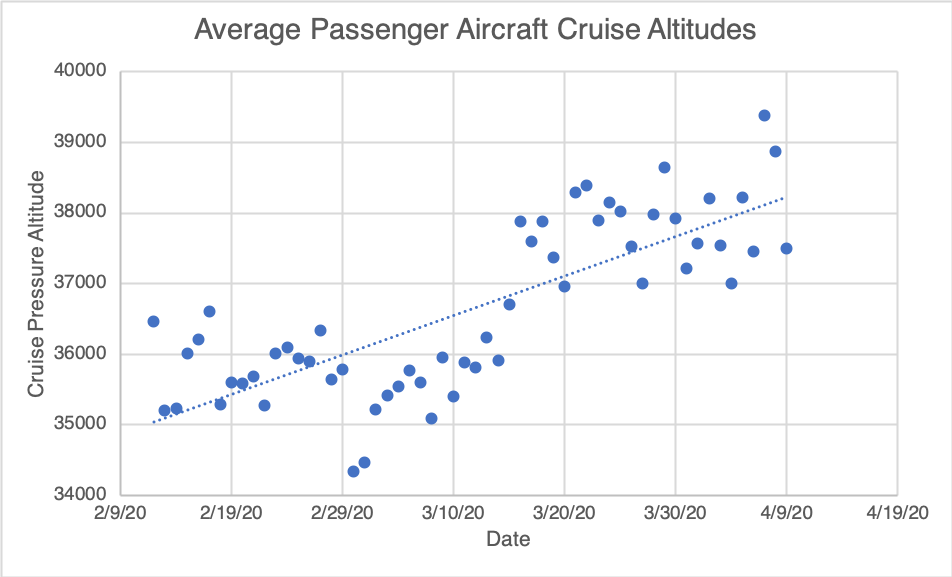 Similarly, lighter load factors are causing aircraft to climb faster, at least at one major airport. 
This one is simpler to explain: aircraft will climb faster when there is less payload. Using a similar methodology with the same cohorts of data, I analyzed passenger aircraft departing Chicago's O'Hare Airport (ORD), an airport that lacks any RNAV standard instrument departures, that tend to contain climb-inhibiting altitude restrictions. The Feb. 12 to March 11 cohort averaged a maximum vertical speed of about 3,200 feet per minute. The March 12 to April 9 cohort averaged a maximum vertical speed of about 3,500 per minute. This data was likewise statistically significant. In case you're wondering, the top climber of the data was Trans States Airlines flight 4684 on March 30, from ORD to Moline (MLI), which reached a maximum vertical speed of 6,144 feet per minute. Trans States, of course, ended operations two days later. What a way to go out! If you fly the A321, a notoriously slow climber (and I know some of you do), these are particularly weird times for you.
---
On the business end of things, JetBlue, Spirit, Hawaiian, Frontier and Delta have all filed for CARES Act exemptions with the U.S. Department of Transportation as of publication time. If granted, these exemptions would allow these carriers to drop service to certain points. Seth Miller does a good job explaining the DOT's finalized requirements here, and I encourage you to follow Seth on Twitter for smart analysis on these filings as they come in.
Meanwhile, airlines have still not seen a dime of money from the CARES Act grants. On Friday, Reuters' David Shepardson and Tracy Rucinski scooped the emerging terms of the payroll grants to airlines from the Treasury Department:
Mnuchin spoke with the chief executives of major airlines in separate calls on Friday and told them the department was offering 70% of the aid in grants that would not need to be repaid, and 30% in low-interest loans for which the airlines would be required to offer warrants, the sources said. The interest rates would rise over time if airlines had not repaid them, the sources said.
These terms are likely difficult for some airlines to swallow. All eyes are on the airlines — and how they respond — as the week begins. 
---
Three questions for the week ahead
Will airlines take the grant money from Treasury, negotiate better terms or walk away?

United is reinstating a few (emphasis on few) more international routes to its network in early May. Will more follow or is this an outlier?

WWBD: What Will Boeing Do? As the planemaker restarts very limited operations in Washington State focused primarily on military contracts, will it seek money from Treasury — or do something else?

---
This week's best links
The demise of Ravn Air in Alaska has devastated smaller, rural communities. In a commentary for the Anchorage Daily News, Colleen Mondor explores that the airline's cessation of operations and Chapter 11 bankruptcy was not just COVID-19 related. Legislation, regulation and safety factors also played major roles over the last 15 years. (A future edition of this newsletter will focus extensively on regional airlines.)
There are strong arguments for and against airlines continuing service. This story from USA Today's Nicquel Terry Ellis and Dawn Gilbertson is one to include in the "for" column. Among others, they talk to passengers who must travel for chemotherapy treatments and those who need to tend to sick relatives. 
Flight Safety Detectives with John Goglia and Greg Feith, one of my favorite aviation podcasts, is out with a new episode focused on COVID-19. One of the most interesting topics discussed focuses on the maintenance procedures necessary to place aircraft in long-term storage. Give it a listen.
Smaller is king is the conclusion of Courtney Miller at The Air Current as he analyzes airline fleet utilization during a period of significantly depressed demand. Hot: Boeing 737-700. Not: Airbus A321.
Until next week, I'll see you on Twitter. Bluer Skies, stay safe, healthy and wash your hands,
Ethan